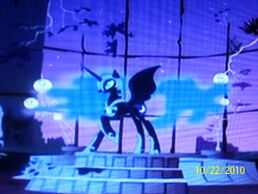 My Little Pony: Friendship is MagicEdit
My Little Pony: Friendship is Magic is an animated series, which is currently airing on The Hub effective October 10, 2010. This incarnation of the popular Hasbro toy was developed for television by Lauren Faust who is famed for her work on two of Cartoon Network's noted franchises The Powerpuff Girls and Foster's Home for Imaginary Friends on all of which she worked with their creator and her husband Craig McCracken.
Twilight Sparkle: A unicorn pony with a light violet body and an indigo mane & tail with pink & purple streaks. Being Celestia's pupil, she considers knowledge more important than friendship. Despite realizing that Nightmare Moon's seal was to be undone, Twilight Sparkle ended up being sent to Ponyville to oversee the ceremony.
Applejack: An earth pony with an orange body and blonde mane and tail. She was featured in Rescue from Midnight Castle and has almost the same appearance she had in the original episode, but with fewer apples in her cutie mark. She comes from a large family of apple-name related members who oversee an apple orchard. She wears a cowboy hat.
Rainbow Dash: A pegasus pony with a sky blue body and a multicolored mane and tail, highly similar to 2003 and 2009 Rainbow Dash (earth pony), but with a very different nature similar to Firefly, an adventurous pegasus pony from "Rescue from Midnight Castle (1984)" (along with Apple Jack).
Pinkie Pie: An earth pony with a pink body and magenta mane and tail, coming off as a bit of an airhead.
Fluttershy: A pegasus pony with a yellow body and a pink mane and tail, very shy around others most of the time but loves animals. Similar appearance and nature to Posey, an earth pony in the 1980's show and named after an earth pony in Third Generation line.
Rarity: A unicorn pony with a white body and a royal purple mane and tail, interested in fashion. She has the appearnce of Glory, the unicorn who made a short appearance in Rescue from Midnight Castle, and is named after Rarity the Unicorn from The Runaway Rainbow.
[edit] Other charactersEdit
earth characters
Name
Major roles
Voice actor
Spike
A green and purple baby dragon who is Twilight Sparkle's assistant and only means to contact Celestia.
Cathy Weseluck
Nightmare Moon
Originally Princess Luna, she is the younger sister of Celestia who helped her in creating the world, only to turn on her out of jealous rage. Though sealed away, Nightmare Moon returns in present day to achieve her goal of putting the world in eternal night. However, she is returned to her original form with the Elements of Harmony and resumes her place by Celestia's side. The first black pony to be seen. Her mane and tail seems to be made entirely out of sparkly indigo, purple-rimmed moondust that she can use as limbs.
Princess Celestia
The ruler of Equestria and the one who control the sun. She's Twilight Sparkle's teacher.
Nicole Oliver

Tabiltha Pumpkin, Rarity, PInkie, flutterbat, Itsy Bitsy, Riders,

[edit] List of EpisodesEdit

#
Title
Directed by
Written by
Original airdate
1
"Friendship is Magic (Part 1)"
James Wootton
Lauren Faust
October 10, 2010
After trying to warn Princess Celestia about Nightmare Moon, Twilight Sparkle and Spike travel to Ponyville where they meet Pinkie Pie, Applejack, Rainbow Dash, Rarity, and Fluttershy.
2
"Friendship is Magic (Part 2)"
James Wootton
Lauren Faust
October 22, 2010
Twilight and the ponies hunt for magic stones that will help relight Equestria and find its missing princess.
3
"The Ticket Master"
TBA
TBA
October 29, 2010
Twilight Sparkle must choose a friend to accompany her to the Grand Galloping Gala after she gets two tickets from Princess Celestia.
4
"Applebuck Season"
=
November 5, 2010
Applejack works hard to harvest the Applebucks in Ponyville by herself.

[edit] External linksEdit
Ad blocker interference detected!
Wikia is a free-to-use site that makes money from advertising. We have a modified experience for viewers using ad blockers

Wikia is not accessible if you've made further modifications. Remove the custom ad blocker rule(s) and the page will load as expected.